Meet our lovely and vibrant staff and volunteers. Everyone brings their own wealth of knowledge, skills and gifts to the Karli Health Centre team. See our team's profiles below.
Clinical, Psychology & Therapy Assistant Services
Karli is the Director of Karli Health Centre Pty Ltd. She enjoys working with Deaf clients providing Clinical Counselling and Yoga/Mindfulness services. Karli is currently training with the Yoga Institute to become a Yoga Therapist. She has a MA degree in Mental Health Counselling (from Gallaudet University at Washington D.C., USA) in 1998 as well as a BA in psychology and developmental drama in 1996. She also completed a foundation certificate in family therapy (London, UK) in 2000. Karli is a member (Level 4) of the Australian Counselling Association and Yoga Australia as well as an accredited ACA supervisor. She is Deaf and fluent in Auslan and enjoys managing her expanding team.
Pip has a Graduate Diploma in Counselling and Human Services (La Trobe University, Melbourne, 1998), as well as a Graduate Diploma in Auslan (La Trobe University, Melbourne, 1997). Her undergraduate degree (BA with a linguistics major) was also completed at La Trobe University. Pip is fluent in Auslan and has worked with the Deaf community in a variety of capacities since 1990. Pip is a member (Level 1) of the Australian Counselling Association as well as a  member of the Association for Contextual Behavioural Science (ACBS) and continually updates her counselling skills by engaging in professional learning, focusing on therapeutic modalities that are person-centred, evidence-based, recovery-focused, and trauma-informed. Pip provides supervision to some staff members and is an accredited ACA supervisor.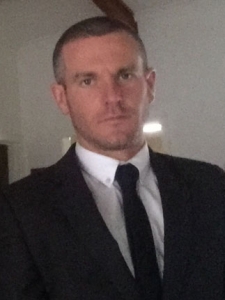 Kevin Pare
Registered Psychiatric Nurse - Division 1
Kevin initially gained his qualification in the United Kingdom in 1998, and moved to Australia in 2008, where he has continued to practice as a registered Psychiatric Nurse. He joined us at Karli Health Centre in 2020 bringing with him an extensive wealth of experience working in Deaf Psychiatry, having previously worked for National Deaf Services in London. He is a fluent sign language user as well as having experience working in forensic and custodial mental health. Kevin has worked in management as both a unit and service manager, as well as experience in community settings, emergency mental health and triage. He also brings to KHC knowledge of legislation and health care provision standards. His goal is to always for a high standard of health care provision.
Sandra Spadea
Therapy Assistant
Sandra is the longest serving employee of Karli Health Centre. She started with us in 2014. Sandra had a break in between to study for her Certificate IV in Mental Health which she obtained in 2016. She and Karli has made a few Auslan videos on Deaf Health available on YouTube. Sandra has personal, lived experience and is a Deaf native signer, making her a valuable asset to our team.
John Murray
Therapy Assistant
John joined the Deaf health team late in 2018 and as a male, Auslan fluent therapy assistant, provides a positive male role model for some of our Deaf male clientele. He is a valued staff member of our team.
John holds a Certificate IV in Disability.
Debra Swann
Therapy Assistant
Debra Swann is a highly experienced Social Worker with particular knowledge in the area of domestic violence as well as drug and alcohol issues. She is currently studying a Master in Counselling with the Australian Institute of Professional Counsellors.
In addition, Debra has the following qualifications:
Masters of Social Work from La Trobe University
** Bachelor of Human Services from La Trobe University
** Diploma of Community Services (Alcohol and Other Drugs) from TAFE Gippsland – formerly GippsTAFE
** Diploma of Community Services (Mental Health) from TAFE Gippsland – formerly GippsTAFE
Debra will be under the direction of Karli Health Centre's counsellor, supported by Karli Dettman and clinically supervised by Karli Health Centre's Mental Health Nurse, Kevin Pare. She will be providing client support and will be able to address a range of issues that can impact of client's lives, particularly in relation to domestic violence, drug/alcohol abuse and mental health issues.
Yoga & Meditation Services
Leesa Selwyn
Senior Yoga Teacher & Therapy Assistant
Leesa is hearing but fluent in Auslan. For the past 13 years, she has worked full time teaching yoga in studios as well as corporate and private settings in Melbourne. She is passionate about making yoga, somatics, mindfulness and meditation more accessible to those who have additional needs, including mild intellectual disability, autism, mental health issues and deafness. Leesa is a SAAYT 200 Registered SomaChi/Vinyasa Yoga teacher. She has 3 x 200h yoga teacher certificates and has attended many additional yoga training programs over her career. She brings her fun and caring qualities into her yoga sessions, which are valued qualities for our NDIS clients who have mental and physical health challenges.
Irene Holub
Yoga Teacher & Therapy Assistant
Irene Holub took her first Yoga class in 1983 and hasn't stopped learning about Yoga practices. As a
dedicated practitioner and teacher, she has studied Hatha, Vinyasa, Restorative and Yin Yoga,
Pranayama and Meditation with a variety of teachers. She has completed her Intermediate Level 2 Yoga teacher with Yoga Australia. She is currently studying Yoga Therapy to offer individualised yoga programs as well as currently studying Art Therapy with CECAT. Her style is a mixture of gentle, strong, dynamic and static movements, which is suitable for beginners and Yogis. Irene is a Deaf Yoga teacher, fluent in Auslan, with a passion of creating, learning and sharing the love of yoga.
Irene is excited to be part of the Auslan Yoga movement where yoga is not a privilege but accessible,
inclusive and culturally sensitive for members of the Deaf community. "We carry inside us the
wonders we seek outside us." – Rumi.. She believes Yoga allows us to be within ourselves.
Marketing, Interpreting, Finances & Cleaning Services
Hailley Reynolds
Marketing Manager & In-house Interpreter
Hailley obtained both business and Auslan diplomas; she enjoys filming work to go onto Instagram and Facebook to increase Karli Health Centre's profile. All videos are in Auslan which is accessible and educational for our Deaf clientele. Being a member of the younger generation means that she brings a fresh perspectives to our Deaf business. She has proposed a number of innovative ideas, such as to pair up with Deaf Chef Ross, Food coach who, with Karli Dettman, creates regular Q&A live videos on Facebook. Beginning in late 2017, this is now called "Look after Yourself First", and is an Auslan platform to discuss health, yoga and nutrition.
Teresa Cumpston Bird
Volunteer & In-house Interpreter
Teresa is an experienced and qualified mental health Auslan-English interpreter, having worked in this capacity for nearly 40 years. She has also worked in educational settings and, some years ago, worked for a number of years as a community worker with the Deaf community. Now she is a semi-retired interpreter and is happy to volunteer with Karli Health Centre to provide support and advice for different parts of the business. She is also an in-house interpreter on Thursday, to interpret the occasional meeting at Karli Health Centre. She has a Bachelor of Arts degree, majoring in Psychology from San Francisco State University as well as an Advanced Diploma of Interpreting and Translating from RMIT.
Dr Leonora White
GP & Health Support
Dr Leonora White is a GP (family doctor) in the eastern suburbs of Melbourne. She has worked in a variety of jobs in hospitals, both in rural Victoria and Melbourne. She usually sees people with all sorts of problems – mental illness, women's health, men's health, children and babies with illnesses or behavioural problems, chronic disease, and preventative health. Many years ago she decided to learn Auslan because she thought it looked like a fascinating language. She makes educational Auslan videos about our health as she is passionate about people having all the information they need to be able to look after their own mental and physical health.
Donna Dettman
Finance Officer
Donna – for more than 25 years – has worked in the finance department of two large companies. She has brought a wealth of knowledge, expertise, good ethics and experience to the financial side of the KHC business. Donna started working in early 2019 when – due to the introduction of the NDIS – the company expanded quickly with more staff and clients. She is well respected by her former employer for her extensive skills and is a respected member of our team.
Melissa joined the Karli Health Centre team in 2015, helping with different parts of the business as a volunteer. She passionately loves both Yoga and Auslan. Melissa has studied science, nursing and Auslan. She is an interpreting student and has also trained as a children's yoga teacher with Cosmic Kids Yoga in the UK. Melissa loves working with families and children, but also has a special interest in Deaf mental health and community service. She dabbles with writing, and had an article published in the
The Art of Healing
on 1 March 2018. This brought attention to the need for accessible and culturally appropriate mental health services for the Deaf Community.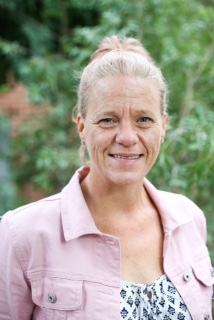 Sophie Beasley
Support Staff
As the service grew, Karli wanted to employ a Deaf staff member to ensure the offices were kept clean. Sophie is a wonderful helper, making the offices welcoming with a lovely scented touch. She does her cleaning job professionally and respectfully.