Meet our lovely and vibrant staff and volunteers. Everyone brings their own wealth of knowledge, skills and gifts to the Karli Health Centre team. See our team's profiles below.
Clinical, Psychology & Therapy Assistant Services
Karli Dettman
Director, Client Relationship Manager, Clinical Counsellor & Supervisor, Senior Yoga Teacher & Yoga Therapist (in training)
Karli is the Director of Karli Health Centre Pty Ltd. She enjoys working with Deaf clients providing Clinical Counselling and Yoga/Mindfulness services.
Karli is currently training with the Yoga Institute to become a Yoga Therapist. She has a MA degree in Mental Health Counselling (from Gallaudet University at Washington D.C., USA) in 1998 as well as a BA in psychology and developmental drama in 1996. She also completed a foundation certificate in family therapy (London, UK) in 2000. Karli is a member (Level 4) of the Australian Counselling Association and Yoga Australia as well as an accredited ACA supervisor.
She is Deaf and fluent in Auslan and enjoys managing her expanding team.
In her spare time, she enjoys reading, relaxing, meditating, walking, swimming and, of course, yoga and spending time with her family and friends.
Sandra Spadea
Therapy Assistant (Mental Health Specialist)
Sandra is the longest serving employee of Karli Health Centre. She started with us in 2014. Sandra had a break in between to study for her Certificate IV in Mental Health which she obtained in 2016. In 2014. she and Karli have made the first Auslan mental health videos on Deaf Health on YouTube.
Now, Sandra runs facilitates her own online support group as well as a group run with Karli that meets face-to-face; its purpose is to help Deaf people to stay connected. She also volunteers her time with the Deaf Mental Health Trust, which is administered through Karli Health Centre.
Sandra enjoys reading books and going for walks. She has personal, lived experience and is a Deaf native signer, making her a valuable asset to our team.
Leesa Selwyn
Therapy Assistant (Mental Health and Movement & Mindfulness Specialist)
Leesa has been a yoga and meditation teacher for over 15 years and has run four retreats in Bali. She is passionate, and intuitive, designing individual programs to support and achieve clients diverse wellbeing goals.
Since 2020, Leesa has moved online, and continues making our services accessible to people at home, all over Australia – in Auslan and English.
She loves to study and expand her knowledge; holding three certified yoga teacher qualifications, (2008, 2012, 2018), a Diploma of Auslan (2003) and Diploma of interpreting (2011). She is also due to complete her Certificate IV in Mental Health (2021) training in the areas of trauma, ACT, person centred and holistic approaches.
Leesa has recently moved to the Yarra Valley and in her spare time loves to tend to her vegetable garden and go for long walks in nature.
Debra Swann
Therapy Assistant (Social Worker & Domestic Violence Specialist)
Debra Swann is a highly experienced Social Worker with particular knowledge in the area of domestic violence as well as drug and alcohol issues. She is currently studying a Master in Counselling with the Australian Institute of Professional Counsellors.
In addition, Debra has the following qualifications:
Masters of Social Work from La Trobe University
** Bachelor of Human Services from La Trobe University
** Diploma of Community Services (Alcohol and Other Drugs) from TAFE Gippsland – formerly GippsTAFE
** Diploma of Community Services (Mental Health) from TAFE Gippsland – formerly GippsTAFE
Debra provides client support and will be able to address a range of issues that can impact of client's lives, particularly in relation to domestic violence, drug/alcohol abuse and mental health issues.
Irene Holub
Movement and Mindfulness Therapy Assistant
Irene took her first Yoga class in 1983 and hasn't stopped learning about Yoga practices. As a dedicated practitioner and teacher, she has studied Hatha, Vinyasa, Restorative and Yin Yoga, Pranayama and Meditation with a variety of teachers. She has completed her Intermediate Level 2 Yoga teacher with Yoga Australia. She is currently studying Yoga Therapy to offer individualised yoga programs as well as currently studying Art Therapy with CECAT. Her style is a mixture of gentle, strong, dynamic and static movements, which is suitable for beginners and Yogis. Irene is a Deaf Yoga teacher, fluent in Auslan, with a passion of creating, learning and sharing the love of yoga.
Irene is excited to be part of the Auslan Yoga movement where yoga is not a privilege but accessible, inclusive and culturally sensitive for members of the Deaf community. "We carry inside us the wonders we seek outside us." – Rumi. She believes Yoga allows us to be within ourselves.
Simon Beasley
Therapy Assistant
Simon is a Deaf, male survivor who has a personal lived experience in addictions. He is passionate about supporting Deaf men to transform their lives. He is studying community service at Wodonga TAFE and is keen to study counselling to provide high quality counselling services. Simon works with both Karli Health Centre and Eagles Corner where he is as the Cultural Integration Coordinator for their partnership with Impact Recovery (
www.impactrecovery.org.au
) providing support to Deaf men recovering from lifelong struggles with drugs.
Simon enjoys visiting art exhibitions and historical sites as well as keeping active physically by swimming, cycling, bush walking and other activities. He also enjoys being creative through drawing and photography, reading inspirational Christian literature and challenging his mind with Sudoku. Simon loves cooking and maintaining a lifestyle of no alcohol or drugs.
Simon's life motto is "there is no impossible".
KHC Organisational Support Staff
Alison Compton
HR People - Coordinator & Therapy Assistant
Alison is a people and culture professional, who is grounded by her extensive experience in Learning and Development, Change Management, Coaching and Leadership.
As a charted professional, Alison's knowledge and education is constantly evolving and includes a Postgraduate of Applied Social Science (Management, Coaching, Leadership, Change Management, Cultural Diversity & Performance Management) as well as Neuro-Linguistic Programming – (Behavioural Science, Coaching and Hypnosis), Personality Profiling and current studies Diploma of Australian Sign Language.
Alison combines her creativity and intuition which amplifies her ability to foster true connection and engagement in order to support transformation. Alison's skills and unique approach are enhanced by her ability to see opportunities and her willingness to learn, grow and innovate. She channels her experience into her passion for supporting individuals tapping into their unique self and develop into exceptional people.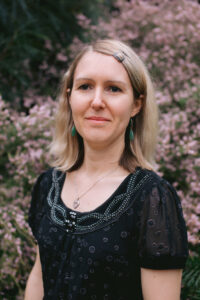 Gabby Khul
Administration Support
Gabby has worked in a variety of different roles such as customer service, waitressing and office administration, and has certificates in business administration and finance.
Gabby "discovered" Auslan in 2017 when she completed a community course and she hasn't looked back since. She has continued her Auslan journey and is currently studying at TAFE part-time.
Gabby started at KHC as a volunteer helping Karli with Admin Support in 2020 and became an employee later that year as referrals and workload increased.
Gabby is also in the process of completing a certificate in Mental Health Peer Work. In her spare time she also enjoys papercrafts, bullet journaling and pet time.
Donna Dettman
Senior Finance Officer
Donna – for more than 25 years – has worked in the finance department of two large companies. She has brought a wealth of knowledge, expertise, good ethics and experience to the financial side of the KHC business. Donna started working in early 2019 when – due to the introduction of the NDIS – the company expanded quickly with more staff and clients. She is well respected by her former employer for her extensive skills and is a respected member of our team.
Donna loves travelling, and has travelled around the world in a campervan! Her favourite dogs are Chihuahuas; they think they are human like us! She has many hobbies, i.e. repainting furniture, crocheting, etc.
Bernhard Andersson
Support Officer
Bernhard joined Karli Health Centre in early 2021 as the newly created role of Support Officer. His duties include providing support in a wide range of departments including Admin, Finance, and Strategic Planning. He is a valuable assistant to many of our staff. Bernie, as he likes to be known, is a Coda and fluent in Auslan.
Jennie Kadiki
Auslan Teacher & Translator
profile coming soon …
Claire has been volunteering for KHC since October 2019. Her Deaf mother recognised that she shared similar values to Karli and suggested getting in touch. Claire supports KHC by interpreting, captioning, and coordinating the new Deaf Mental Health Trust.
After many years working in Marketing and then Environmental Advocacy, Claire decided to refresh her sign language skills and completed a Diploma of Auslan at MPT in 2019, then became an accredited NAATI interpreter in May 2021.
Claire keeps busy by working as Deaf Blind Communication Guide, Education Interpreter and freelance interpreter. She enjoys yoga, qigong, sewing, gardening, cooking, cycling, and camping; however, a lot of her time is now consumed by playing with her new puppy Betty, a gorgeous but mischievous Groodle.
Teresa Cumpston Bird
Volunteer
Teresa is an experienced and qualified mental health Auslan-English interpreter, having worked in this capacity for nearly 40 years. She has also worked in educational settings and, some years ago, worked for a number of years as a community worker with the Deaf community. Now she is a semi-retired interpreter and is happy to volunteer with Karli Health Centre to provide support and advice for different aspects of the business.
She has a Bachelor of Arts degree, majoring in Psychology from San Francisco State University as well as an Advanced Diploma of Interpreting and Translating from RMIT.
In her free time, Teresa enjoys her cats, spending time with her hubby, catching up with family and friends as well as walking around the inner north, where she and Kendal live.
Dr Leonora White
GP & Health Support
Dr Leonora White is a GP (family doctor) in the eastern suburbs of Melbourne. She has worked in a variety of jobs in hospitals, both in rural Victoria and Melbourne. She usually sees people with all sorts of problems – mental illness, women's health, men's health, children and babies with illnesses or behavioural problems, chronic disease, and preventative health. Many years ago she decided to learn Auslan because she thought it looked like a fascinating language. She makes educational Auslan videos about our health as she is passionate about people having all the information they need to be able to look after their own mental and physical health.